We are your local Swagelok Hose Pros, offering extensive Hose selection, expert Hose consultative services, and exceptional Hose technical training!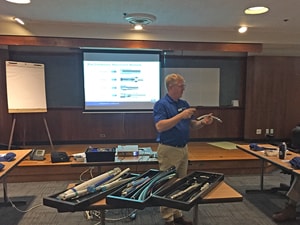 If your fluid-system application requires a flexible connection between moving and stationary equipment, or temporary connections, or frequent disconnects, or isolation from high-vibration machinery, we're your first-choice, one-stop trusted resource for genuine Swagelok:
All-Metal, Fluoropolymer, Thermoplastic, and Rubber Core Types
Multiple End Connections
Crimped, Swaged, Welded, and Push-On Attachment Methods
Numerous Cover and Tagging Options
Our Hose Advisory Services experts will visit your site, free of charge, for a first-hand review of your current hose usage and performance. After our on-site audit, we'll issue you a comprehensive prioritized report detailing our recommendations on how to quickly improve your overall operating safety, efficiency, productivity, and profitability.
Learn the critical fundamentals of fluid-system hose optimization during our half-day Hose Essentials Technical course, taught monthly in our Training Center in Pittsburgh – OR at your facility. You'll graduate with a complete understanding of hose terminology, selection variables, and the best inspection and preventative maintenance practices. More specifically, you'll learn:
Why/When/How Hose Should Be Used
How to Maximize Hose Life
Hose Assembly and Connection Methods
The Definition and Importance of "STAMPED"
Core Tube Considerations
…and so much more!
View our Hose Pros literature to learn more.
View the full range of Swagelok Pittsburgh | Tri-State Area's service offerings.