We help relieve your most challenging operational pressures:
Since 1965, Swagelok Pittsburgh | Tri-State Area's vast array of safe, timely, economical, and effective Strategic Support Services have helped customers stay on-time, on-plan, and on-budget, even when tackling the most challenging fluid-system projects.
You've long known us for our productivity-boosting, leak-tight Componentry. But, just as importantly, we offer proven and extensive capabilities to help relieve even your most challenging operational pressures – from the urgent replacement of retired/retiring skilled labor, to too-few resources to handle your current workload, to overall system inefficiencies that are negatively impacting your end product, to ensuring the maximum safety of your workers and workplace.
We're far more than just another product supplier. We're your local Swagelok Solutions Provider:
Masterful Custom Fabrication
state-of-the-art, 5,000-square-foot working and staging area
5-ton overhead crane, with 18-foot clearance
climate-controlled environment
dedicated swaging, bending, coiling, orbital welding, and kitting stations
complete testing, inspection, cleaning, and packaging stations
---
Comprehensive Safety Training
We offer an unparalleled array of pertinent and timely course titles.
We can bring our training directly to your site or project location.
All of our classes include a full money-back guarantee.
All graduates receive a genuine Swagelok Certificate of Completion, plus several valuable take-home items.
We supply all class materials – students just need to show up!
---
Trusted System Evaluations & Advisories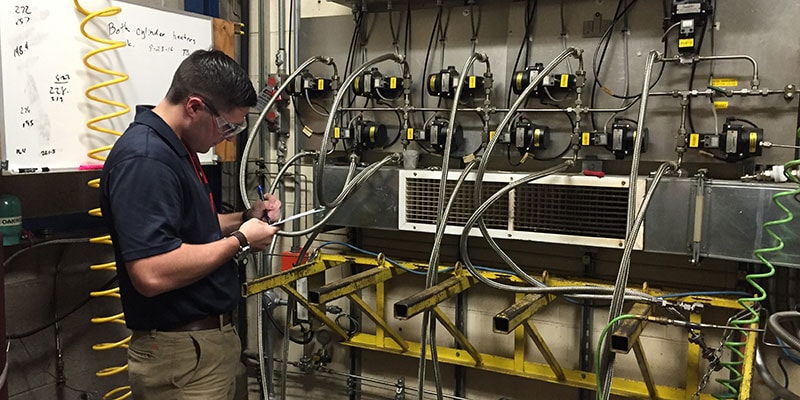 Our Energy Management Specialists will conduct an on-site survey to identify and tag the leaking tube fitting, pipe, and valve connections that put your workers, equipment, end product, and overall profitability at substantial risk. Our certified Hose Advisors will closely audit your current hose usage to determine if your hose types, lengths, and end connections are ideally suited to your specific applications.
---
Tool Rentals
We lease pristinely maintained Benchtop and Electric Tube Benders, Hydraulic Multi-Head Hydraulic Swaging Units, and Orbital Welders for daily, weekly, or monthly use. Why buy new if your need is short-term or infrequent?
---
Application Expertise
Let us help you choose the optimum Swagelok componentry or fabricated assembly for your particular application – no matter how complex or routine your job. Our trained and friendly Technical Sales and Support Team provides reliable recommendations on how you can confidently and quickly reduce operational downtime and other major system inefficiencies. Whatever your fluid-system challenge, we have the technical know-how and always-on-hand inventory to enable you to get more done safely: on-time, on-plan, and on-budget!